Why should you use use tire cleaners?
Keeping car tires clean and shiny is important to any car or motorcycle enthusiast. Unfortunately, as you put more and more miles, the new black rubber turns grey and starts showing signs of wear and tear. The exposure to the sun, heat, dirt and pollutants can damage the rubber and after a while it may start cracking. Tires are one of the most important components of your car; they are the only thing that stands between your vehicle and the pavement.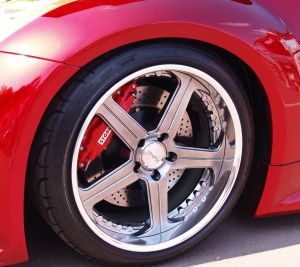 And no matter how much money you have spent on your rims or how much horse power you have, bad tires can reduce the performance significantly and may end up being a very costly oversight. But here we will not discuss about how to choose the best tires. Instead, we will help you find the best tire cleaner and give you some tips and advice on how to properly maintain your tires, keep them looking new and extent their useful life.
What do the tire cleaners do?
1. Obviously, they clean. Simple shampoo and water will rinse off the everyday dust and dirt, but you will need a proper cleaner to remove all the debris, brake dust and pollutants from you tires.
2. Restore that deep, black, new tire look. Some cleaners will also deliver high gloss shine.
3. Protect your tires from harmful elements and UV rays that crack and fade the sidewalls.
4. Prolong tire life.
5. Revitalize old and faded rubber.
Best rubber tire cleaner guide
Before you get the tire care product you must consider the following questions to help you choose exactly what you are looking for.
1. Are you looking for just a cleaner, tire restorer or both in one?
2. How often do you plan to use the product?
3. What look do you want to achieve? Super glossy, semi shiny or natural matte finish?
4. Do you prefer a spray-on or gel/paste product?
5. Are you looking for a quick, one step solution or are you willing to spend some time and effort to get the best results?
Keeping these things in mind will help you narrow down the list and avoid frustration. So here are some of the best tire cleaners on the market to help you keep your car or bike in a top showroom condition.
Top 5 Tire Cleaners On the Market
This product comes from a fairly new company making car detailing products – Car Guys. They are serious about their product quality and all of their formulas are created and mixed in the USA. This wheel and tire cleaning spray and their other products are non-toxic and biodegradable. This particular cleaner is acid free and PH balanced making it safe to use on all kind of tires and rims as well as calipers and even chrome exhaust tips. From our experience, it tends to keep the tires clean longer than other products, even when the shine starts to fade. The kit used to include a microfiber applicator, however now it is no longer the case and you will have to purchase one separately. It is not the cheapest tire cleaner on the market, but after taking all the factors into account (such as versatility and quality) we chose this Rim and Tires spray from Car Guys to be our top pick for the best tire cleaner.
Another great product from Maquiar's. It delivers beautiful super glossy look and repels water to keep your tires looking beautiful longer. It prevents your rubber from cracking, browning and premature aging. This rich tire gel comes in a 16 oz. bottle and allows even application offering deep shine that lasts for a long time. While it may be not the best of the best tire cleaners on the market, it made our list because of its price and quality ratio.
This one of the top tire cleaning products contains dual action cleaner and conditioner. Its innovative formula provides deep black look, hydrates and revitalizes your tires like no other. Sonax Tire Gel is on the pricier side, but its "Made in Germany" quality and superb long lasting results more than make up for it. We have also found that one bottle can last for quite a while, because its gel formula allows avoiding overspray. Lastly, while it may depend on individual preference, we liked the semi-gloss showroom look it provides.
If you are looking for a budget option and you don't feel like spending time on detailing your car, then you should definitely consider Tire Wet Foam from Black Magic. The application doesn't require any scrubbing or wiping – just spray the product on your tires and let it do its magic. The thick foam in this tire cleaner will release the dirt and silicone oils will provide long lasting shine. However, keep in mind that you shouldn't use this product on tire treads or any two wheeled vehicles as the same silicone oils can make surfaces slippery.
If super shiny tires look is not your thing, you might want to consider this tire and wheel cleaner from 3M. As the name suggest, it removes grime and brake dust from both your tires and rims. It is safe to use on clear coated wheels and will remove scuff marks from your tires making them look brand new again. If you want to go an extra step and are willing to spend a couple of dollars more, consider looking into another great product from 3M – Tire Restorer. It brings back the natural deep black color even more and is also suitable to use on other rubber and vinyl surfaces such as moldings and bumpers. Its non-greasy formula is perfect for cleaning and rejuvenating older surfaces without slinging and will darken them just after one treatment.
Last, but definitely not least product we would like to mention is Mothers Back-to-Black Tire Cleaner. It is part of Mothers Classic product line.  This treatment was designed to dissolve rubber damaging elements such as brake dust and grime and to provide clean surface. It offers easy spray on and wipe off application and is safe to use on all brand and color tires (including white wall tires).